Luis Oduber – CEO / COO of WEB Aruba N.V

Subsidiaries
WEB Aruba N.V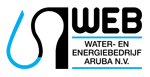 WEB Aruba N.V, formerly a government department, became "self-reliable" company, in 1992, which resorted under the holding company, Utilities Aruba N.V. WEB Aruba N.V. is the main power producer on the island, which power is mainly delivered to the distribution company N.V. Elmar. Besides power production at the WEB Aruba N.V. facilities, by fuel oil driven engines and also steam turbines, power is also produced at another facility, and sold to WEB Aruba N.V., by an independent wind power producer.
Drinking water is also produced by Web, mainly by a desalination process with reverse osmose, or through an integrated process utilizing steam. WEB Aruba N.V. also handles the transport and distribution of this potable water to its customers.
Nowadays, WEB. Aruba N.V. is a modern company ready to face Aruba's needs and the challenges of the third millennium with state of the art facilities and equipment, latest technological advances, highly qualified personnel, and continuous improvement of service, efficiency, and reliability of its operations.
During the last decade, WEB. Aruba N.V. has invested approximately 250 million dollars to upgrade, modernize, and expand its water production and electricity generation by installing additional boilers, a desalination unit, modern automated control systems, and a new turbine generator, which lead to huge gains in efficiency. An integral part of these advancements has been the development of its personnel.
Future investment in more energy efficiency, more renewables and also storage of energy, will result in a higher RE penetration, maintaining stable and reliable power production at affordable tariffs, all according the desired sustainability target of its shareholders.
---
N.V. Elmar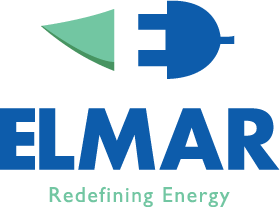 N.V. ELMAR is a limited liability company and was established, as a private owned company in 1950, which had both power production and distribution. In 1964, the production was transferred to a government department, while in the early nineties, all its shares (99,6%) of the distribution, were acquired by the Government of Aruba, through the holding company, Utilities Aruba N.V. ELMAR is the sole power distributor on the island of Aruba, and at the moment all power is bought from the power company WEB Aruba N.V., besides a very small portion produced by solar energy from an independent power producer and/or from DG connections on their grid.
From the old power distribution company, N.V. ELMAR must strive for a more service oriented business model where the client is central and quality of service is guaranteed, but also moving towards other business models. Quality of service is partially defined in a stable and reliable transmission and distribution grid, but also in quality in good customer relation. Stability and reliability is achieved, by the continuous proper and timely maintenance of the grid, while customer relation will be safeguarded with the newly introduced Customer Information System. This system will enhance a personal relation with the customer, which will also require highly motivated personnel, to keep the customer satisfied.
Part of this program, include also a new smart metering system, which could make data, available to the customer, but also enhance efficiency in several distribution processes. Soon, all existing old streetlight fixtures will be replaced by LED technology, while also charging electric vehicle is being evaluated. On the sustainability target, regulations have been adapted, to permit RE sources to be connected on the grid, and any "surplus" of energy by this source, is bought by N.V. ELMAR, while N.V. ELMAR is also buying in power from an independent solar power producer.
N.V. ELMAR is aware of its unique position and therefore needs to continue providing excellent service and creating sustainable value for their customers, employees, community and other stakeholders.