Embracing the winds of change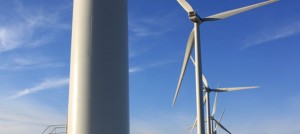 With a new wind farm about to go live and the implementation of innovative energy storage solutions, Aruba is well on the way to meeting its sustainability targets, becoming a world leader in wind power generation along the way.
With an actual capacity of 30MW, Aruba's current wind power production represents about 15 percent of its total consumption, which places it fourth globally and still some way behind Denmark, the current global leader, which produces 26 percent of its power from wind. But today, with a second wind farm about to be deployed, Aruba is set to double its wind energy output, placing it firmly in first place.
"We are practically done with the second wind farm at Urirama," says Frank Hoevertsz, managing director of Utilities Aruba, who adds that it is expected to become operational in late 2015. This second wind farm will have a capacity of 26.4MW, but due to its longer blades will be more efficient than the island's current wind farm, Vader Piet, and will ultimately be able to produce more energy. Dutch venture capitalists Bright Capital Partners are arranging the financing for the project, which has been overseen by wind developer Vader Piet Beheer, while the wind turbines are coming from Danish firm Vestas.
Aruba boasts one of the world's best locations for wind power, with 5,000 hours of wind per year, and to make the most of this resource, the two wind farms will be as spread out as much as is possible on a tiny island. Vader Piet is located on Aruba's northeast corner, while Urirama will be located to the northwest.
An unreliable resource
Increasing wind generation capacity brings challenges, especially in terms of reliability of power production. While in Europe or the USA energy supply reliability is guaranteed by the many different forms of production, on an island like Aruba it is a completely different scenario. With just one power plant, the country is totally dependent on backup capacity in the absence of wind production. This challenge arises not only when wind levels are lower, as is the case during the Aruban autumn, but also when sudden wind speed fluctuations occur. This intermittency factor of wind energy can result in sudden drops of up to 50 percent of wind production.
In Aruba, actual load demand varies between 130MW during peak hours to a low point of 70MW during the early morning. So far, the island has been able to manage sudden power fluctuations from the existing wind farm, but with Urirama becoming operational, a sudden drop in wind power could easily result in a drop in production of as much as 25MW, with conventional power being needed to absorb this drop. The slow ramp-up time of the heavy fuel oil-powered turbines also means that there may be some delay before this back-up supply fills the gap.
Storing energy
Storage is the only solution to resolve these issues, but, with the exception of battery solutions, adequate storage technology isn't yet available. Even new, proven, long-life battery technology doesn't meet Aruba's unique needs. In determining the right storage source for the island, reaction time was key, and therefore flywheel technology was chosen as the best short-term solution, while for the longer term, Aruba has opted for an as yet unproven method: underwater compressed air storage.
By early 2015, both of these solutions will be operational, which not only lays the ground for the effective deployment of the Urirama wind farm but also enables the country to reduce wind energy curtailment – when wind farm output is reduced due to insufficient demand – to below 2 percent.
At this point, and combining all of Aruba's efforts in other renewable solutions, the country's sustainable energy production will have risen to over 40 percent, another step closer to its ultimate goal of 100 percent.
A sustainable vision
Utilities Aruba, together with WEB, Elmar and all the other energy stakeholders, believes in its sustainable vision and is determined to execute it. With plans afoot for a third or even fourth wind farm, more megawatts of solar energy, more biofuel, and other technologies in combination with other storage sources, as well as support from The Carbon War Room and TNO, Aruba believes that implementing its mission is achievable. What is more, Aruba hopes it can set an example for its neighbouring islands in sustainability.
---