Water to be proud of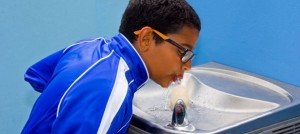 As a small, semi-arid island with practically no surface water and little groundwater, providing its population of 110,000 plus the more than 1,000,000 tourists who visit annually with enough water is a major challenge for Aruba.
Today, after almost 80 years' experience in desalination technology, the island has managed to ensure sufficient water availability, boosting its economic development.
It wasn't always thus. The first population of Aruba, nomadic Arawak Indians, stayed only for a short period of time at places where enough water could be found. Later, the island's growing population would collect rainwater in dry riverbeds and pump groundwater out of wells, using a variety of methods to purify the water they collected, from limestone jars to calabashes.
In the early 1930s, WEB Aruba first used seawater desalination to provide water for the then population of 17,000.These first installed evaporators had a capacity of 200 cubic metres per day. From 1932 to 1958, ten more of these evaporators were installed. In 1958, the beginning of combined power and water production was initiated and five evaporators with a capacity of 2,000 cubic metres per day started running. These evaporators stayed in production for 25 years and were only demolished in 1983.
The island's expertise in the sector grew rapidly, and by 1959 Aruba was the world's largest producer of desalinated seawater, although it has since been overtaken by the Gulf States. In 1965, multi-stage flash (MSF) desalination technology, which distils seawater by flashing a portion of the water into steam in multiple stages, was introduced at WEB Aruba with the installation of a 3,000 cubic metre per day evaporator. In the 1970s, the island's desalination production capacity was extended with two evaporators with a nominal capacity of 6,000 metric tons per day, which ran until 1985. Due to rapid economic growth between 1990 and 1998, WEB Aruba was forced to further increase production capacity with five new MSF evaporators.
Today, desalination remains the island's only means of providing water, and especially for the tourism industry, the most important economical pillar of Aruba, the 100 percent operational and delivery assurance of high-quality drinking water is of the utmost importance.
After decades of desalination activities, Aruba has gained enormous experience, and has now opted to phase out MSF technology and move toward seawater reverse osmosis (SWRO). One such plant is already in operation since 2008, with the second in operation since 2013 due to come online at full capacity by the end of 2014.
The distributed drinking water in Aruba is of the highest chemical and bacteriological quality, with constant checks performed by the WEB Aruba as well as the laboratory of the Aruban government's health department.
Due to the high cost of producing desalinated water, Aruba needs to ensure that there are minimal losses. Through a strict water control programme, the country has cut leakage down to a bare minimum, and water theft is practically non-existent. The current non-revenue water percentage – measured by the difference between billed water and produced water – in Aruba is between 2.6 and 4.1 percent, as compared to as high as 60 percent in the rest of the region.
Keen to remain at the forefront of advances in desalination technology, Aruba is working hard on the development and application of innovative, and most importantly environmentally-friendly, practices, as well as continuously seeking to improve the efficiency of current technology.
Nowadays, as a result of its ingenuity, Aruba, once dubbed "useless island" by the Spanish conquistadores due to its lack of resources, can say that its water is among the best in the world, both in quality and taste.
Click here to read the full paper Seawater desalination and drinking water quality assurance in Aruba by Dr. Ir. Filomeno A. (Boey) Marchena, Advisor Sustainable Water Technology and Innovation for WEB Aruba.
---