Cutting emissions and cooling energy costs
A cooler island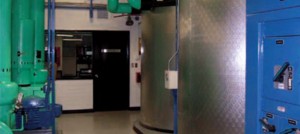 On 4th February 2014, the Aruban government and Utilities Aruba unveiled a new cooling system at the main office building of WEB, the country's electricity generator and water producer. The new installation harnesses cutting-edge technology to help deliver on the vision of a greener, lower-cost energy future for Aruba. A partnership between thermal energy storage company CALMAC, air-conditioning supplier Trane and mechanical contractors Pro-Tec, the ice storage system uses stored ice to cool buildings, replacing traditional air-conditioning technology.
While the island's renewable energy initiatives, such as solar and wind power, are obvious areas of focus as it pursues its goal of becoming 100 percent green, Utilities Aruba believes that temperature management will also be crucial in cutting emissions and energy costs. "In Aruba, 50 percent of the energy demand comes from cooling," says Frank Hoevertsz, managing director of Utilities Aruba. "This is basically a low-hanging fruit. If we can reach more efficiency in cooling then we will have a big gain in energy savings."
According to CALMAC, those savings could be as high as 40 percent over the 20-30 year life span of the cooling system. Johnston County Schools in North Carolina, which has already installed the technology, has estimated that it will save US$28-US$35 million across its 19 schools over the next four decades.
From day to night
Aruba may not see the sweltering heat of many other Caribbean islands, but at 27C-32C its average temperature is consistently high throughout the year. That may be pleasant for the island's thousands of tourists, but for those working in office environments cool air is a necessity rather than a luxury, while it also makes sleeping much more comfortable.
The main concept behind the new cooling system is to "recharge" by producing ice at night, when electricity is cheaper and the load on the grid lighter. During the following day, that charged-up cooling power is used to keep buildings at the right temperature. The apparatus itself is easier to install than traditional cooling technology, while its relatively simple design, involving few moving parts, makes it relatively low-maintenance – an attraction for companies seeking to cut down on costs and paperwork. This is particularly advantageous to larger enterprises, as OJ Boekhoudt, general manager of WEB, points out.
The technology also means that the production plant can optimise wind energy production, because any excess of wind energy during the night won't have to be curtailed, while "peak shaving" – when the demand for electricity exceeds the available power generation capacity – will decrease during the day.
"This project will apply mostly to our larger and industrial clients," says Boekhoudt. "We plan to use our headquarters as a model and later expand the use of this technology to help us shift power production from day to night."
Small is cool
CALMAC says that any enterprise that meets two of the following requirements can install the system: having a building over 100 tonnes, having a cooling system that uses chilled water or having enough time during a 24-hour period to produce the ice needed.
The company also asserts that the ice storage system improves on traditional coolers in terms of size management. Most conventional designs, it estimates, require 20 percent more capacity to accommodate larger-than-anticipated cooling loads or possible equipment failures. However, that extra space is rarely, if ever, used, cutting into the system's efficiency. The ice storage design is able to meet those safety margin requirements with stored ice but without needing extra space. A smaller system, CALMAC says, can still offer the same cooling capacity.
Some major enterprises already believe that ice storage is the future of cooling technology, including The Durst Organization, the New York real estate firm which prides itself on prioritising sustainability and innovation. "Beyond the cost-saving aspect, we selected this technology because it reduces peak electrical load on the grid. This lowers the need for building new power plants," says Jody Durst, the company's co-president.
---